NEW PRODUCTS 2020
Wallpapers
Nouveau and Frieze collections now enriched with a brand new element for Ex.t catalogue: the wallpaper. Thanks to its technical features, glass fiber makes the wallpaper totally waterproof and perfectly suitable for walls in contact with water like those in the shower or close to a bathtub. This material perfectly fits our mission to radically change the image of the bathroom, through aesthetic experiments as if it were a living area.
Marcante-Testa designs a new collection of wallpaper to complete the homonymous line of washbasins and bathroom accessories.
A real "stratigraphy" on the wall featuring bands of colours and horizontal decorative elements, working both as a background and as decorative element.
The project features three decorations in different colours combinations that integrate perfectly with Frieze collection offering a complete signature bathroom.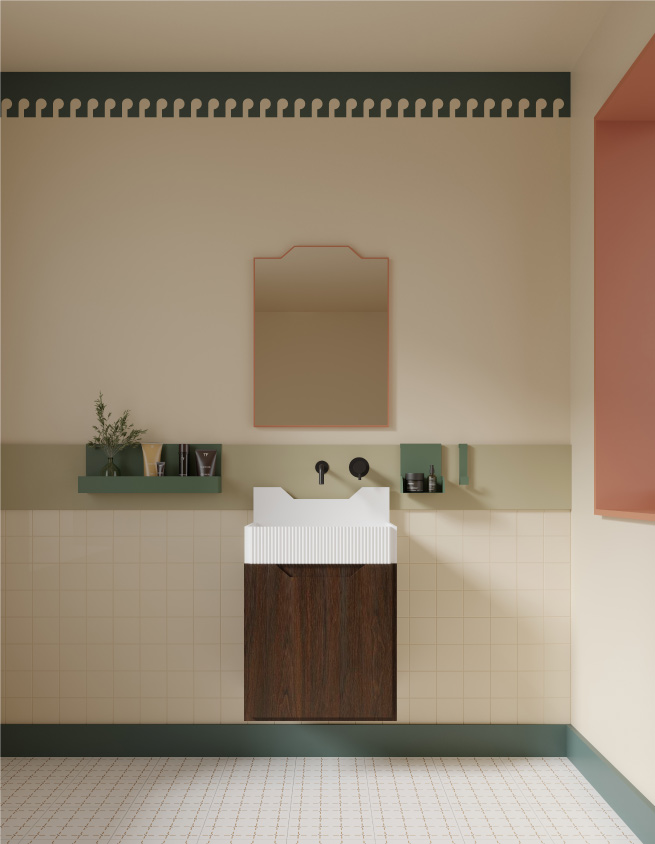 DISCOVER FRIEZE WALLPAPER
Starting from the shapes of Nouveau collection, the designers Bernhardt & Vella present two different wallpapers featuring geometric lines, both available in three different colours. The first one enhances the three-dimensionality through a combination of narrow and wide textures with different shades of colour. The second one is characterized by small triangular graphic elements, as a tribute to the Déco atmospheres feature of the whole collection. Nouveau Wallpaper is a collection of waterproof wallpaper dedicated to the bathroom, but not only.
DISCOVER NOUVEAU WALLPAPER