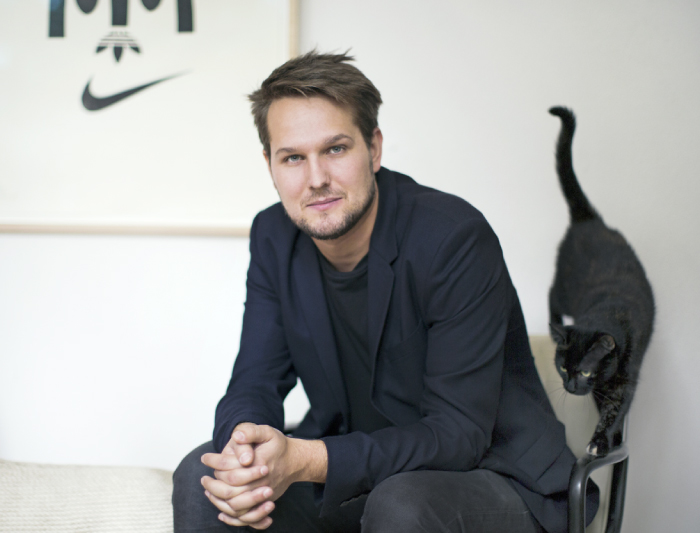 Ex.t meets Sebastian Herkner
Rising star of international design, German designer Sebastian Herkner is the newest great collaboration for Ex.t in 2016. cultural diversity lover and passionate for traditional craftsmanship, Herkener's vision meets Ex.t's to realize a new bathroom collection featuring innovation, originality and the finest details. Waiting for the official launch at Salone del Mobile 2016 in April, we sat down with the designer to grasp his take on this collaboration, the industry and some anticipations on the upcoming event.
Tell us about this bathroom collection, how was the idea born, what's the design challenges and what's the result?
I've been interested in challenging myself with a bathroom collection for a long time, so when this opportunity came up it was very exciting. We wanted to play and experiment with shapes, creating something that is stylish and useful as well. That's how we ended up with the idea of a sidetracking plateau that's useful as well as playful and adds elegance to the design as a whole. Once we found the key shape we were looking for, it turned into the trademark style for the entire collection of furniture and accessories alike. The entire collection, called Plateau, it is all about shapes and shadows in movement.

This is your first collaboration with Ex.t, how has it been working with the brand in a matter of creativity? How was Ex.t in meeting your design vision?
When I saw that you were collaborating with young international architects such as Norm Architects, I immediately thought that Ex.t's approach was different. That turned out to be true in a matter of innovation, experimentation and the way you blend together Italian tradition with fresh creativity. The brand is very keen in highlighting the designers creativity to deliver new and original solutions for bathroom designs. Since the beginning of the project Ex.t has been very welcoming to my ideas and every briefing was very stimulating. The only thing Ex.t won't compromise is the best quality of materials and the high standards of the final product, which I think is great.
What's your take on the bathroom as a living space?
The bathroom is a place that needs to be lived in at its best. You need comfort, pleasurable furniture as well as handy spaces to place the products and the objects you want to bring with you! The main challenge for me is to keep it light but functional and finely detailed. I think that blurring the boundaries between the bathroom and other living spaces, as the bedroom for example, is a natural evolution in the future of the industry. It is already happening in many hotels where you often find a free standing bathtub in the room, but this is more and more in demand also in the private sector, bathroom furniture is becoming more and more a piece of design, a kind of sculpture to show off in the house among the other furnishing.
We are launching the collection at Salone del Mobile in the bathroom exhibition pavillion, how do you feel about that? What role do you think Salone del Mobile is playing today for the international design and furniture industry?
I'm very happy to be there with this new collection as I think the Salone del Mobile, along with IMM in Cologne are the most important fairs in Europe for the industry. It's highly commercial and fruitful networking wise, everyone who is involved in the industry pops by to this fair. I'm really looking forward to be there and to see how it goes, I believe it's a very good opportunity for me as well as for you as a brand to be there.

Sebastian Herkener studied product design at HfG in Offenbach am Main, where since 2006 he runs his studio. He won the German Design Award in 2011 as Best Newcomer; the EDIDA award as Best International Newcomer in 2015; and has been Guest of Honor at IMM fair in Cologne 2016.


Sebastian's new collection for Ex.t Plateau, will be showcased during 
Salone Internazionale del Mobile 2016 at the International Bathroom Pavillion 12th -17th April in Milan.